Our board viewer provides a what-you-see-is-what-get view on your actual physical board. We have taken great care that it actually resembles the board that you will later hold in your hands. So it's not just a Gerber Viewer, but also your production readiness test. You can interactively spot mistakes, missing holes, inspect traces, plating, and so much more. We are that sure it will help you during your development process that we guarantee that your order will exactly look like the board's rendering.
Nifty shortcuts are:
T: Turn the PCB (bottom/top)
R: use the Ruler
S: Toggle Silkscreen
M: Toggle Soldermask
P: Toggle milling Paths
H: Highlite Drills
Inspect details by zooming and moving your PCB
To inspect a detail on your PCB zoom in or move the PCB to the detail you want to inspect. Use the Scrollweel or pinch-to-zoom.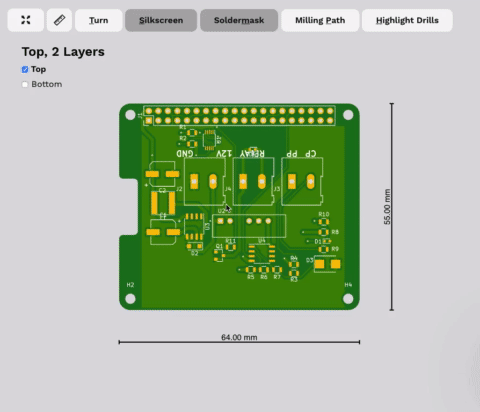 Inspect both sides of your PCB
You can easily turn the PCB. Just click the Turn Button or use the hotkey T. This allows you to view both side of your PCB easily.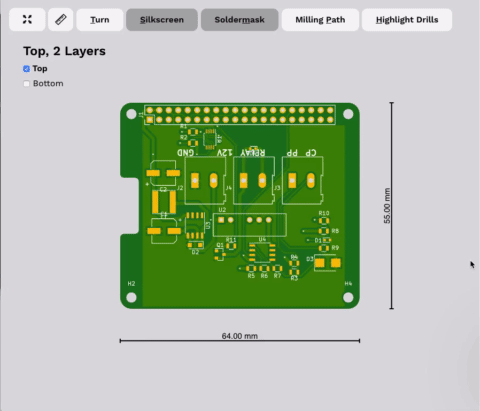 Measure distances between traces and pads
Not sure, whether a distance is quite as intended. Our viewer provides you with a ruler that provides you precise measurements of distances. Just click the Ruler Button or use the hotkey R.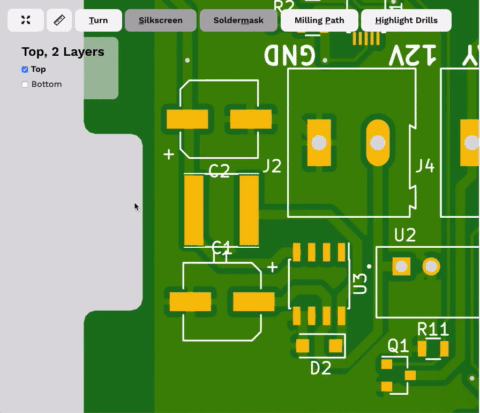 Inspect Milling paths
At AISLER we use two types of mills (check Plated and non-plated slots and Cutouts for details). You can inspect whether they are used as you intended by toggling the milling paths. Do you miss some slots, maybe they have been converted to cutouts, for that enable drills as well.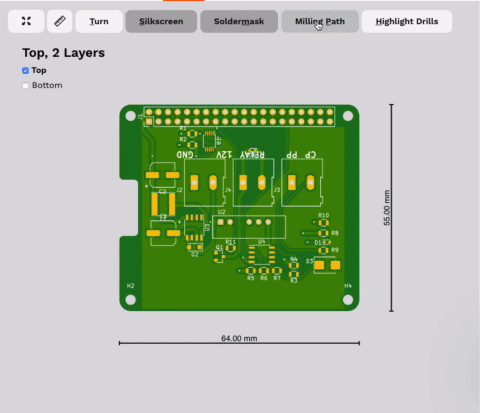 View all drills, plated and non-plated
You can use unlimited drills in your design, plated as well as non-plated. To visualize the drills just click the Drill button or use hotkey H.