tldr; Today we are announcing three of the most revolutionary changes of Beautiful Boards ever. We are bringing two of the most wanted HD features to our Blitz and Budget offerings and are improving our HD offering to feature a much smaller final hole diameter. These changes will be free of charge for everyone and will make the development of modern designs applications so much faster than ever before.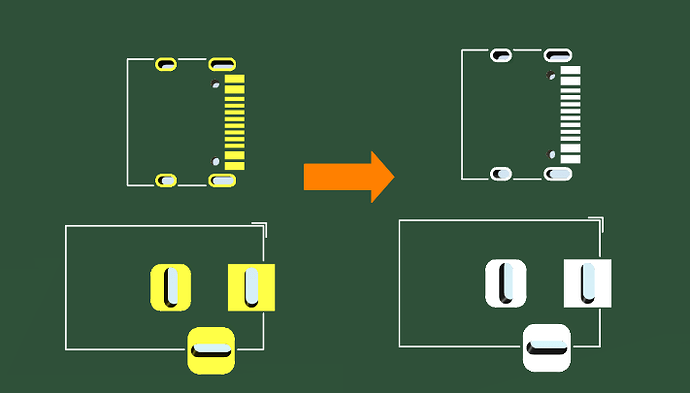 Making more modern applications faster and affordable
It's almost three years since we have made the design of a quick prototype so much more accessible by introducing our Beautiful Boards Budget – the affordable alternative manufactured in Europe – and Beautiful Boards Blitz – the fastest most affordable prototype PCB on the planet. What was revolutionary three years ago, has made AISLER the defacto standard for modern manufacturing in Europe. Today, we want to push the boundaries further and adjust the design parameters to make more modern design applications even more faster and affordable than ever before.
Here's the list of improvements
With today's changes we are announcing three major improvements:
Plated elongated holes/slots on all pools (previously reserved to our HD pools)
a second milling tool of 1.8mm aside from 2.4mm on all pools (our HD-only second milling tool has been reworked from 1.6mm to 1.8mm to now support all pools)
A new smaller drill that supports 0.1mm final hole diameter for all our HD pools (smallest hole was previously 0.2mm)
These changes will allow you to design applications that previously required an HD pool. Think for example USB-C sockets: Those previously required an HD project. We also made HD more HD as you can now place more vias in a much higher density allowing your routing to be much more versatile on HD projects.
Making hardware less hard is what we strive for and that means working everyday to make yor life easier and get your designs faster to market. We want to help you design better and faster and with today's improvements to our portfolio, we believe this will make your life easier to help you develop the products of the future faster!
And with that,
Cheers