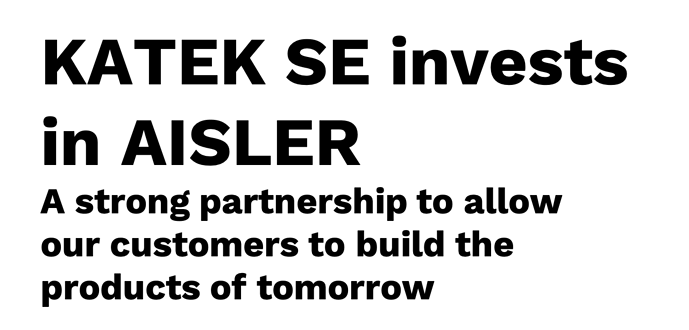 tldr; We received an investment by KATEK SE to further expand our manufacturing service and build on our proven customer service. This strategic partnership will allow your projects to scale to infinite demand. This is one step closer our vision to having your electronics supply-chain at your fingertips at all times.
Make Hardware Less Hard – the electronics supply-chain at your fingertips
We started this service just five years ago because we wanted to provide a service with local manufacturing that was just as affordable as anything out there in the world (for everyone that can read German and wants to go down memory lane, follow this link to a local forum). Back then, this didn't exist in Europe. Fast forward 5 years, and we can now call ourselves the leading online prototyping service in Europe. How did this happen? If you asked me five years ago, I would've laughed at you out loud. Today I believe our focus on bringing our customer's project forward instead of thinking from order to order has helped us focus on long-term customer relationships. This has allowed us to steadily overperform anyone on the market. Over the past five years we've introduced products that would help you get your prototype built faster, easier and more affordable. From Beautiful Boards, Stellar Stencil, Precious Parts and Amazing Assembly, to Smart Services, like Smart Tests, Smart ID and Smart Teams. Make Hardware Less Hard to us means that realizing a project should be as simple as pressing a button. It's that simplicity that also hooked our new strategic partner KATEK SE. They share with us the dedication towards their customers and the ambition: Lead the category!
So will anything change?
We've heard this a couple of times. Promising nothing will change is a lie, because even without the investment, the AISLER you saw today would be completely different to the AISLER you see in a year from now. What we can say is, that this investment will help us make AISLER so much better. We now have the necessary funds to hire highly skilled people that will accellerate our product roadmap significantly. In addition, AISLER now has access to KATEK's wide range of expertise and hence all of our customers will benefit from the industry's best design for manufacturing experts out there. We will soon see a lot of new features that will help our customer's design processes, from design to manufacturing to proper industry certifications. In addition, every AISLER project is now infinitely scalable. A sudden need for 1 million pieces of your project? No problem, we have integrated KATEK's large capacity into our network of partners. So scale will never be an issue. Together we want to be the partner for the products of tomorrow. Leading the category to make hardware less hard for anyone!
As a team we are super stoked and thrilled for the amazing things to come. Looking forward to hearing what you think and see you on the socials.
Cheers