Simplicity is the ultimate sophistication and this is something we strive for everyday: Supporting your everyday business to make it as easy as pie to develop the products of tomorrow.
Last week, we've secretly launched a great new feature that'll help you simplify your Quotation needs and get your Accounting (and maybe also your Warehouse) department love you even more! Let me introduce:

SmartQuote – a simple interface to create and accept custom quotes.

But pics are better than words, here's an image: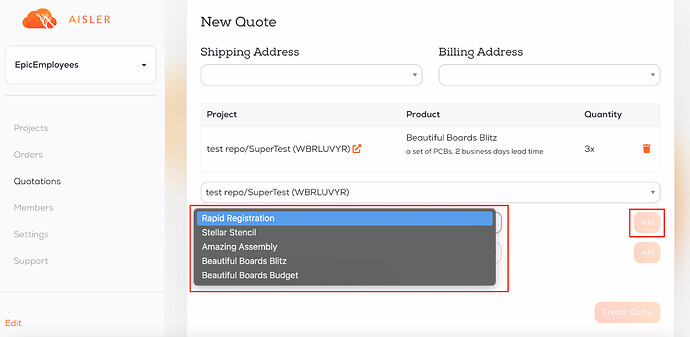 You can add as many positions as you like. You know what that means, right?

Heck yes, we now support multi-project quotes and orders! Just create a SmartQuote and your accounting department will simply just have to accept ONE quotation instead of multiple (as they might have previously). And yes, that also means shipping needs to be added only once! Your warehouse colleagues will love you because all projects will be jointly shipped and checked-in, no more multiple order checking anymore!

Accepting a SmartQuote is as simple as pie, too. Just enter your PO Number (or if you don't have one, just any combination of characters will do)
Have a look:
Once you accept, your quote will automatically be ordered. So no more E-Mails necessary
Oh and one more thing: If you get a custom Amazing Assembly quote from our Sales Team it will also appear in your Team's Quotation page. That's one streamlined process for everyone to enjoy. Better check it out and inform your colleagues!
For more Information, head over to our community:

How to create and accept a SmartQuote

We hope you like it! If not let us know by filing a Feature Request in our community.
Cheers