tldr; Supply shortages are the norm now, we need to live with them (Covid-19, the war in Ukraine, you name it). However, what we as software makers at AISLER can do for you, is to provide you with a very easy interface to monitor your project's bill of materials. Have you documented all parts? Well, then starting today checking out the availability and the price point of each component of your has become as easy as pie.
The old days – checking parts individually
Without AISLER's Smart BOM, it can be an tedious task to get all the appropriate parts for your project together. Let alone monitoring availability and pricing. Try updating your BOM in Excel with most recent prices. This is more a more than horrible experience.
Enter the future – our Smart BOM
We don't have any influence on the availability of components as they come from a world-wide network of world-class distributors. What we can offer though, is to offer you the data those distributors provide us with in a very accessible way. So, we have thought about how we can pass on this information to you in a meaningful, clear and targeted way and have implemented the following solutions:
From today on you can get a quick gasp on the quantity by either directly checking fixed quantities or just simply entering the quantity you desire.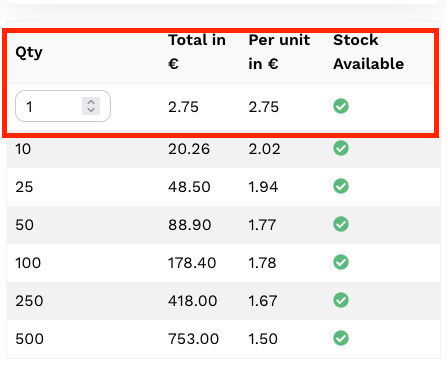 As you can see from the screenshots below, from now on – once you enter your personal quantity – the corresponding availability is displayed for each component, making our BOM smarter than ever before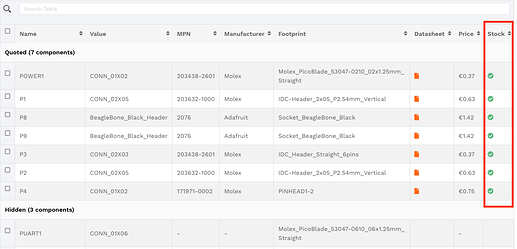 Live Distributor Integration – the more the merrier
The display are not approximate values, which could then turn out to be wrong. No - we work with live inventories, which are directly communicated to us by the major distributors.
So it is directly possible for you as our customer to see which components might be difficult to procure. If you have a time-critical project and need your boards delivered quickly, there may be alternative products that are available and suitable for you. Quickly re-assign them and your project is ready for production. We guarantee transparency down to the last specific component. We are adding more and more distributors so that you have access to a wide array of inventory. The more the merrier!
If you are unsure whether some components are suitable for your project, simply contact our Assembly Service Team. They will be happy to assist you with their professional answers to any question.
So what are you waiting for: hit the design road, upload your newest designs, and directly check with our Smart BOM if all parts are available!
One more thing …
And before we forget, the ultimate way for you to upload your project is through one of our supported Applications. If you then upload your components in that application, we will automatically assign all of your parts. It's that simple.
Looking forward to seeing you try it out and letting us know what you think of it!