Panel
For amazing assembly and simple supply, we create panels according to this specification, by default, we utilize bridges with mouse bites.
Other configurations are available upon request.
Contact our project managers for inquiry
Standard dimensions
Our assembly panels have the following maximum and minimum external dimensions.
max. 454.8 mm × 494.8 mm
min. 100 mm × 55 mm
Markings
We add additional markers on the panel frame, here an example depicting a single PCB panel.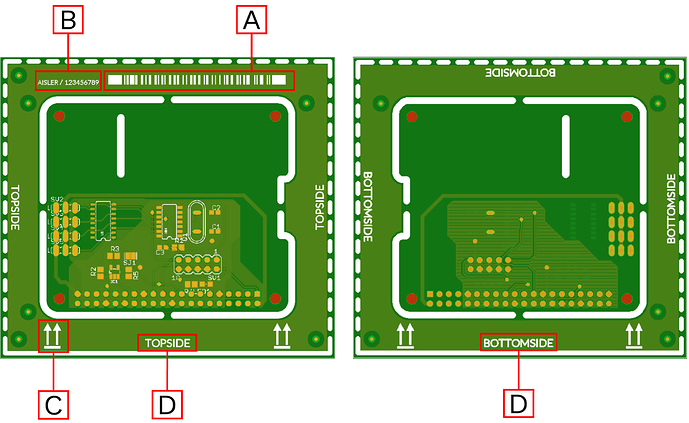 A Barcode
B Order Code
C Panel Orientation
D Top/Bottom
Allocation of boards on the Panel
The number of (individual) PCBs accommodated per panel is determined by us based on PCB size and order quantity. So-called "multi-design" panels (PCBs of different types within one panel) are neither supported nor supplied by AISLER. The individual boards are arranged in rows and columns. The maximum number of rows and columns is limited by the maximum dimension of the panel and the dimension of the PCB. Rows and columns are always populated; no positions are omitted.

Panels will always manufactured in multiples of three due to production related processes.
Thus, the sum of individual PCBs may differ from the number of PCBs to be assembled.
Fiducials
For accurate positioning, we add global and local fiducials on the frame.
Fiducials added on the PCB by the customer will not be taken into account when setting up the pick and place machine.
Fiducial Geometry
We use the same geometry and size for global and local fiducials.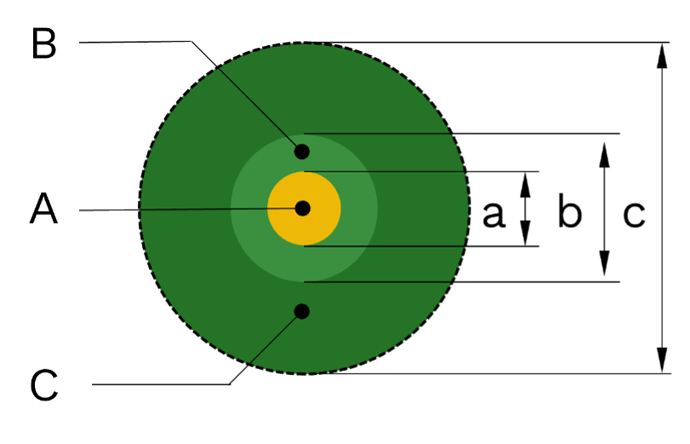 | Reference | Description/Size |
| --- | --- |
| A | Surface Finish (ENIG / HASL) |
| B | Soldermask Keepout |
| C | Copper Thieving Keepout |
| a | 1,0 mm |
| b | 2,0 mm |
| c | 4,5 mm |
Global Fiducials
We place three global fiducials in the corners of each panel in a triangular arrangement.
The solder paste stencils also feature these global fiducials. On the stencil, the fiducials are laser marked.

The three global fiducials are each placed 5.0 mm (a) from the outline of the panel.
Local Fiducials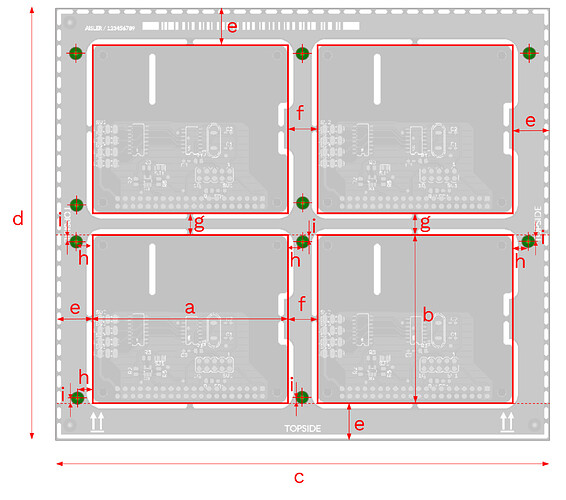 | Reference | Value in mm | Description |
| --- | --- | --- |
| a | variable | Width of PCB |
| b | variable | Height of PCB |
| c | variable | Width Panel |
| d | variable | Height Panel |
| e | 12,4 | Width Panel Frame (horizontal and vertical) |
| f | 9,8 | Horizontal distance between PCBs |
| g | 7,3 | Vertical distance between PCBs |
| h | 4,9 | Horizontal distance PCB → Center point local Fiducial |
| i | 2,5 | Vertical distance PCB → Center point local Fiducial |
The dimensions given above refer to a rectengular bounding box enclosing the PCB
(reference a x b). These dimensions do not necessarily correspond with the shape of the board.
Pick and Place file.
Component position and rotation data is given relative to the local fiducials, independent of the panel size, thus only the dataset for one PCB is included in the pick and place file.
The local fiducials are designated as FID_A_1,FID_A_2, FID_A_3