Layer Stackup
For your convenience we offer ready-to-use layer stackups for Altium.
Set up Push for Altium
Using Push for Altium we offer the most comfortable way to transmit projects from Altium Designer to us.
Copy you Organization Access Key
Open https://aisler.net and click on "Account" in the upper-right corner of the page.
Click on "Settings" in the navigation menu on the left.
Copy the value below "Organization Access Key". It should look like "f5c394b3db2f8d28ddf5".
Add Publishing Destination
Open the "Preferences" dialog by clicking the button in the upper-right hand area of the design space.
Select "Data Managment" → "Publishing Destinations" from the menu on the left.
Using "Add Destination" add a new " Amazon S3" destination.
Fill out all input fields as shown in the screenshot.
Name: Push to AISLER
Account Name: AISLER
Access Key Id: AKIAU7MHJAWYUB7QBZAS
Secret Access Key: y3jAQOlaGMXgvF0gx6PJNSqazxOP3bj2eeBirvwK
Bucket: push-for-altium-v
Key Prefix: Paste the "Organization Access Key" from your organization's general settings as described in the first step.
Last but not least, set the check mark at "Zip content"

Import the output configuration
Using Right-click → "Save Link as…" download our Altium Outjob Configuration.
Using "Add Existing to Project…" on the "Projects Panel", import the Outjob configuration to your project and assign the layout you would like to submit.

Push your project
On the right hand side of the Outjob form, click "Generate and Publish" and select "Push to AISLER…".

After just a few seconds a prompt should open up. Enter either a new project name ("Awesome Project") or copy an existing repository / project path ("sandbox/awesome_project").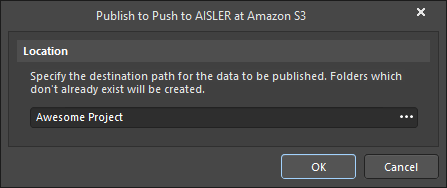 How to document component mount type
In order to provide accurate pricing for our Amazing Assembly offering it is necessary to document the mount type of all components used. To do so the component's parameters in Altium are used. Our import application will look for a parameter called "Mounting Technology". Please follow this guide on how to add this parameter.
Open Altium's Parameter Manager while the project is open.
Only select "Parts"
Using the button "Add Column…" add a column called "Mounting Technology".
Now it is time to poplate the recently added column / parameter.
On all parts / components used on your schematic, add either
"smt" or "surface mount"
"tht" or "through hole
depending on the technology used.
How to document component part numbers / manufacturer part numbers
In order to make use of our automatic part assignment on import it is required to use one of the following values on your BOM in Altium Designer
Part Number
PartNumber
Manufacturer_Part_Number_1
Comment
As soon as one of these includes a manufacturer part number (MPN) it will be automatically assigned on import. Our Output Configuration mentioned above already includes these columns, please make sure they are correctly filled.